(At the end of this blog post appears reactions from both recall supporters, such as the National Rifle Association, and those who were opposed to the effort, among them being the Coalition to Stop Gun Violence. Their comments are being reprinted in their entirety as found in a Sept. 11 Internet search.)
In a rebuff for their anti-gun votes, two Colorado state senators have lost their seats in an historic recall vote.
As a result, efforts to build broader legislative support for more strict gun control laws likely has taken a serious hit – as many backers of such measures admitted would happen if just one, let alone, both Colorado state senators fell in Tuesday's recall voting.
Conceding defeat Tuesday evening was Colorado State Sen. John Morse.
Morse is – or was - Colorado's State Senate President.
The latest preliminary figures show Morse losing by a 52-percent to 48-percent margin.
Also removed from her legislative job was Colorado State Sen. Angela Giron who lost by an even larger margin. Preliminary election results show Giron being ousted by a 56-percent to 44-percent margin.
Like Morse, Giron also conceded Tuesday following a steady erosion of her one-time early huge lead.
If the preliminary figures hold up then Morse and Giron will become Colorado's first-ever successfully recalled state legislators.
Both – now, former – state legislators entered the sights of a large cadre of Colorado voters for their work this summer in assembling a package of controversial strict gun-control measures that ultimately became law.
So contentious were these measures – which included a ban on large-capacity ammunition magazines – that at least two firearms-related manufacturers said they will exit the state.
All of which led to Colorado's first-ever recall of state legislators.
And that successful recall petition drive ultimately became a national fight by proxy regarding gun control.
In all, both sides spent about $3.5 million, though of that figure $3 million was donated by recall opponents, reports Reuters News Service.
Among the opponents contributing money was Los Angeles billionaire Eli Broad who donated $250,000.
Meanwhile, long-time anti-gun activist Michael Bloomberg also felt led to contribute to the no-recall side. The billionaire mayor of New York City wrote a personal check for $350,000.
That figure is only slightly less than the $368,000 contributed by the National Rifle Association for its independent efforts in support of the recall.
Others involved with the recall opposition were former U.S. Rep. Gabrielle "Gabby" Giffords and her husband Mark Kelly along with their Americans for Responsible Solutions, an organization that self-describes itself as supporting so-called reasonable gun control measures.
They made the recall a major electronic-based fund-raising and organizational sales pitch. In an August email appeal, Giffords and Kelly said "This is one of the first major tests of our organization, and the stakes could not be higher."
Many other politic activists as well as members of both major political parties likewise said the recall results would become something of a national litmus test on the Second Amendment.
And even the most vocal opponents of the two recalls have been quoted as saying the loss of just one of the two state senators would be a serious blow to gun control efforts in America.
So it now it seems that these opponents have the loss of both of their heavily funded anti-gun legislators to fret about over the coming days.
Reaction to Colorado's recall vote from
pro-gun control groups:
Coalition to Stop Gun Violence -
"Our thoughts on the Colorado recall results: Disappointing? Yes.
"A major setback? No. We are not going to win every battle, but what is different now for our movement is that we can and WILL engage in every battle.
"We are in a protracted struggle to change gun laws and save lives in this country and up against a well-funded lobby with experience in picking vulnerable targets.
"The NRA carefully selected two vulnerable senators and defeated them in recall elections marked by low turnout and voter suppression (no mail-in ballots).
"What is most important is that Colorado's historic new gun laws remain in place. These laws are popular with Colorado residents.
"And listen to the words of John Morse. He has zero regrets about his role in enacting these laws and would do it again. If he is not bowed, why should we be?"
The Brady Campaign to Prevent Gun Violence -

"By passing legislation to strengthen Brady background checks, Senators Morse and Giron were acting on behalf of the will and well-being of their constituents and standing up for a safer Colorado.
"Make no mistake, this recall reflects the interests of the corporate gun lobby and a small group of extremists not the citizens of Colorado," - Dan Goss, President of the Brady Campaign to Stop Gun Violence.




No statement yet found by the following gun control groups: Americans for Responsible Solutions, Mayors Against Illegal Guns, People for the American Way/
Reaction from Pro-Second Amendment groups:
Gun Owners of America -



"What a startling upset. The voters of Colorado have done it!




"Yesterday, Colorado booted two unprincipled, back-stabbing, arrogant legislators from office.




"This was truly a historic effort and the first time in Colorado history that there has ever been a recall election -- let alone a successful one.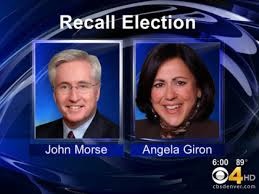 "Democrat Senators John Morse and Angela Giron lost their bid to hold onto their seats in districts that heavily favored Democrats.


"(In fact, Giron represented a district where only 23 percent of registered voters are Republicans.)




"In Morse's race, 51% of voters pulled the recall lever to eject him from office, while 56% of voters sided against Giron.




"The effort to recall Morse and Giron began as a genuine local effort, although the prospects of beating two entrenched Democrats attracted big bucks from out of state. Anti-gun New York City Mayor Michael Bloomberg spent hundreds of thousands of his own dollars in an attempt to help Morse retain his seat.




"But it

didn't

work. And now the handwriting is on the wall for other legislators.




"Morse especially angered constituents earlier this year when he, as the Senate President, helped slam several unconstitutional gun control bills through the legislature and onto Democrat Gov. John Hickenlooper's desk -- legislation such as magazine restrictions, bans on private gun sales (without a background check), etc.




"Gun Owners of America stepped into the fray during the spring and summer, and did its part in rallying the troops to get Colorado voters to the polls.




"And so, to the voters of Colorado, we at Gun Owners of America want to thank you all for your efforts to send a powerful message to the rest of the state -- and the rest of the country.




"As stated by the New York Times this morning, the recall has given "moderate lawmakers across the country a warning about the political risks of voting for tougher gun laws."




"Your activism in Colorado has truly been a model for the rest of us to follow!"





The National Rifle Association -



"A(n) historic grassroots effort by voters in Colorado's Senate Districts 11 and 3 has resulted in the recall of Colorado Senate President John Morse (D) and Senator Angela Giron (D).
"The people of Colorado Springs and Pueblo sent a clear message to their elected officials that their primary job is to defend our rights and freedoms and that they are accountable to their constituents – not the dollars or social engineering agendas of anti-gun billionaires.
"Recall proceedings began earlier this year after Sens. Morse and Giron voted for anti-gun legislation that restricted the ability of law-abiding residents to exercise their Second Amendment rights, including their inherent right to self-defense.
"This effort was driven by concerned citizens, who made phone calls, knocked on doors, and worked diligently to turn voters out in this historic effort.
"The National Rifle Association Political Victory Fund (NRA-PVF) is proud to have stood with the men and women in these legislative districts who sent a clear message that their Second Amendment rights are not for sale in Colorado.
"We look forward to working with NRA-PVF "A" rated and endorsed Bernie Herpin (R) from Colorado Springs and NRA-PVF "AQ" rated and endorsed George Rivera (R) from Pueblo in the Colorado State Senate."

National Shooting Sports Foundation -


"When legislators fail to represent the beliefs of their constituents, it is up to the voters to fire them. And this is exactly what happened Tuesday in the Colorado Springs district of John Morse and the Pueblo district of Angela Giron.

"Sens. Morse and Giron chose to forget about their constituents.

"Instead, Sen. Morse led the hasty effort that led to the passage of a series of highly restricted gun control laws that will do nothing to improve public safety but that did reflect the wishes of national anti-gun organizations, including the one led by New York City Mayor Michael Bloomberg. Sen. Giron was a key vote in this ill-considered effort.

"On behalf of our members, we congratulate the grassroots effort of the Coloradans who stood up for their Second Amendment rights against a well-financed effort that poured a massive amount of money into the effort to save these seats.

"Congratulations, too, to Bernie Herpin and George Rivera, who now join the Colorado State Senate and whom we are certain will work diligently to represent the will of their constituents, not forgetting all those who worked so hard to put them in office."

No statement yet found from the following pro-Second Amendment groups: United Liberty, National Association for Gun Rights.

This blog posting likely will be updated as additional information and quotes become available.
- Jeffrey L. Frischkorn